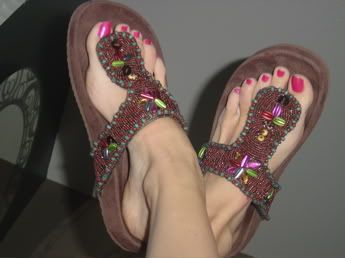 that the newest sandal added to my collection.
It is funny cause i don't really feel like have a large amount of flippingflops or sandals or just shoes in general.
But lately if I see something as sparkly and beady like those I can not pass it up.
So I feel a collection coming on.
I actually feel a strong need for a trip to the Beverly Center.
That place is silly ridiculous.
But super duper great.
What can i say? I am Material Girl.
And lets all observe Madonna for one moment please.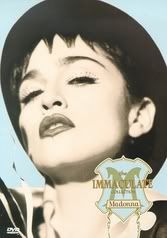 She had a shit birthday.
i could link the story I gues but I don't wanna.
She like fell off a horse and stuff.
Broken bones.
i wonder if she really fell off a horse?
My mom tried to trick me and said that she died!
I just screamed at her!
NO SHE DID NOT!
like you idiot mom!
No No Moms are great.
After all, I am one.
But my mom really pisses me off, especially when she starts telling me how proud she is of me.
That really aggravates me.
I told her that i was going to have to stop hanging around with her if she continued.