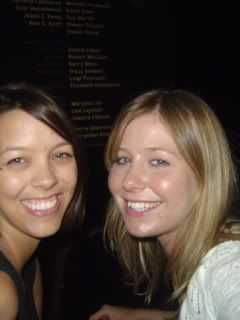 Here is a FRESH picture of
Janet
and I after one of the CRAPPIEST movies EVER!
SO CRAPPY in fact that we started to take pictures of the actors in the crappy movie.
Really entertaining.
Janet was considerate enough for the other people in the theater that she turned off the flash.
I would have just flashed away without any regard for others.
The movie was
Bewitched.
I think it should be called BECRAPPED!
hahahahaha ok.
On a lighter note/
My Health.
I feel sick and pretty yucky.
Last night I swear I was having chest pains.
I may be sick.
NO NO I am fine.
I also had this sharp pain like in my neck yesterday.
and shooting pains down my arm.
I am having small heart attacks, and a few days after I feel real sluggish and sick.
That is super.
Now I am making it out to sound more serious then it actually is.
Nevermind.
I am fine.
I just need some sleep.