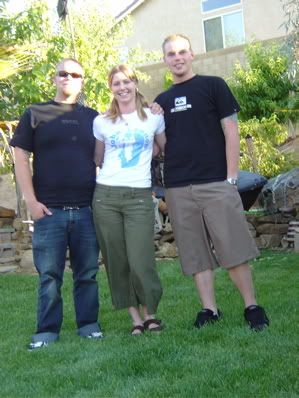 This is me and my step brothers Christopher and Bradley.
We all moved in together in a very strange part of our lives
I was 16 and I guess Bradley was like 10 and Chris was 13.
Anyways, we had fun for awhile but sure enough it all fell apart.
My mom and stepdad bought a house, so we all had our own room and it was SWEET!
Soon after stepdad revealed to us all that he was a big FAT drunk!
In the beginning it was sort of a comical and lighthearted drunkeness.
But then it became a living nightmare.
SO I guess all that tension plus regular tension you have when you are at these ages resulted in CHAOS.
I have been in some serious fist fights with Christopher.
And I usually won. And I am not at all proud. I am just saying.
The boys and I would fight over just basic respect issues.
Drinking an entire gallon of milk in a HOUR!
Just being HUGE, nasty, destructive, PIGS!
Whatever.
It was just strange for all of us.
It had basically been just us girls for awhile.
And BOOM BOYS BOYS BOYS! SICKO GROSS BOYS!
And a drunk Asshole running the show.
SUPER DUPER but now that the 3 of us are all grown and moved out, I know that we really love each another.
We had to put up with a lot of bullshit and that is our bond.
I least I think.